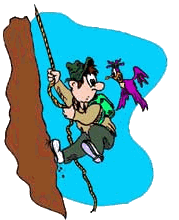 Southern Sierra Council
High Adventure Team


Climbing and Rappeling Instruction
The Boy Scouts of America have stringent requirements for individuals governing indoor and ouTDoor climbing and rappelling activities. This course provides the highest quality training in climbing, rappelling, safe anchor placement, risk management, and "Leave No Trace" techniques.
Three courses are offered (click the links for additional info):
Climbing Safety Awareness (Climb On Safely) is a one-hour program/slide show that teaches the 8 points of the Boy Scouts of America safe climbing and rappelling program. Adults with this training are qualified to help a Climbing Instructor run troop climbing and rappelling activities. Please see the HAT Training calendar for opportunities when this will be offered. Usually it is free.

The Climbing and Rappeling Workshop is a one-day merit badge workshop that teaches the basics of safe climbing and rappelling under the guidance of qualified BSA Climbing Instructors. Some scouts demonstrating adequate knowledge of the materials may, upon completion of the workshop, qualify for the Climbing Merit Badge.

The Climbing Instructor Training & Certification is an intensive three-day course (or two nights and two days) to become qualified as a BSA climbing and rappelling instructor. Depending on your climbing knowledge and teaching ability, you may, upon completion of this course, qualify as either an Instructor, or Instructor in Training. Instructors may run troop climbing and rappelling programs, or assist a Climbing Director or Lead Instructor with Council or District programs.
Climbing and Rappelling Workshop
This merit badge workshop provides an introduction to safe climbing and rappelling. Scouts satisfactorily completing this course and demonstrating climbing and rappelling knowledge and proficiency may qualify to receive the Climbing Merit Badge

Prerequisites: Scouts age 13 or older, with Climb On Safely training may participate. AdULts with no prior climbing experience who are interested in the Instructors Course are strongly recommended to take this workshop.
Dates and Fees: Please see the HAT Training calendar for dates. We usually ask for $5-$10 from each participant to help maintain and replace equipment.
Climbing Instructor Training & Certification
This course provides training to qualify as a BSA Climbing and Rappelling Instructor. One all-day indoor session, and two weekend days at an outDoor location are required.

Topics covered in this course include:

proper use of gear
climbing and rappelling technique
safe placement of anchors
safety instruction
"Leave No Trace" principles

Prerequisites: Age 16 or older (priority to 21 and older) and prior participation in the Climbing and Rappelling workshop, or a basic knowledge of climbing gear, and documented experience climbing and rappelling.

Fee: The cost of this course in April, 2007 was $50/participant. However, the cost of future courses may be higher.
Dates: Both indoor and two outdoor sessions are required. Please see HAT Training calendar for dates of courses.


Example Agenda
Day 1 (Indoor)
8:30 am to 4:00 pm (lunch provided). This module may also be offered as two evening lectures, both of which must be attended to pass the course.
Day 2 (Outdoor)
8:30 am to 4:00 pm on a Saturday
(hands on practice climbing and rappelling)
Day 3 (Outdoor)

9:00 am to 3:00 pm on a Saturday
(candidates run a climbing/rappelling workshop)

&nbsp
Scouts younger than 18 can qualify only as Instructors in Training.

Please note: Space is limited, so please sign up early. Also, total participation is required in order for you to complete this course. In other words, you cannot miss any sessions. Even being late to a session forfeits your chance to complete the course, and there will not be an opportunity to "catch-up."